Romantic lighting!
We are so close to the next step towards finishing our new master bedroom.
We finished putting in the electrical boxes for the lights this week.
I of course changed my mind several times.
I tried to visualize how they would look when the room is done.
The final one we were trying to center over where we will put the bed.
Mr. M. says he does not want a light over the bed, said he does not like the one we currently have over our bed now.
I batted my eyes at him and said "what if it is a romantic crystal chandelier?"
He rolled his eyes and moved the box.
He knows I have been thinking about all of it.
The colors.
The mantel.
The floor.
The drapes.
The furniture.
All of it.
Right now I am concentrating on the lighting.
And, there are a lot of them.
Good thing I am not superstitious.
Five of them you will not see, they are in closets and the laundry room.
I may not attach a light to the fan in the middle of the room.
That leaves us with.
I do not want them to all match.
I do not want them to clash either.
I am thinking of having them all have crystals.
Different heights.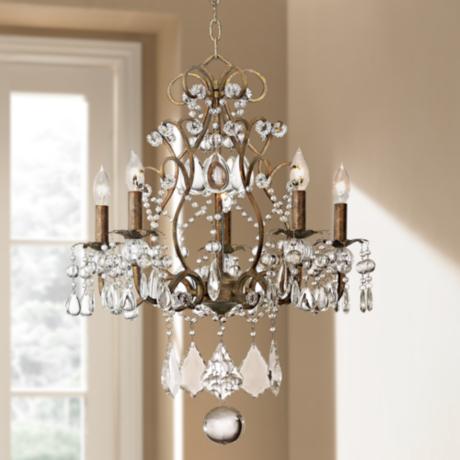 Different styles.
Some elegant.
Some simple.
So what do you think?
Will they all work together in one room?
It is a large room.