When we finish our new master bed room he will be getting our old room.
He keeps asking when.
Soon.
Will I get your bed?
No.
Will I get your tv?
No.
I have been asking him what his favorite colors are and what he would like in his new room.
Orange.
here
Not the whole wall of course.
Maybe some horizontal stripes or one wall of vertical stripes.
He also likes blue, so I will do some smaller stripes of that color.
I would also like to try gray along with the orange.
I think it is a color he could grow into and not hate it in a couple of years.
I would love to make him a cool bed for this new room.
Seeing as we STILL have NOT built the tree house, this might be a temporary compromise.
He is young enough to really appreciate it for many years.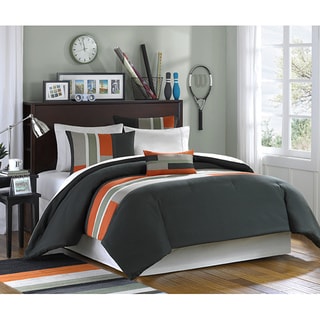 here
This bedding would be great to start off with.
Some wall art.
I love the canvas pictures.
I have two vintage scooters that once were hanging in his room when he was a baby.
Now they are just waiting to be hung back up.
He will have his OWN closet.
He will have his OWN cabinet for toys.
His OWN desk.
His Own bookcase.
I have a funny feeling he is going to leave his new room as a play room and sleep in his brother's room.
I'm ok with that too.


At least he will have a place to go that is his OWN.