Now that our youngest son's room is almost done.
I have decided to work on his brother's room.


Going on 12 he is almost a TEEN!
I wanted to guide him towards choices that he can grow into.
I don't want to change his room for many years.
I have been told that I may not want to enter his room once he reaches teen years.
I want it to be creative.
I want it to express him.
I gave him a Restoration Hardware catalog so I can have an idea of what he likes.
Industrial.
Grays.
OR
Home Depot
Metal shelves.
Home Depot
Taking a desk he already has and transforming it with paint,
to look something like this.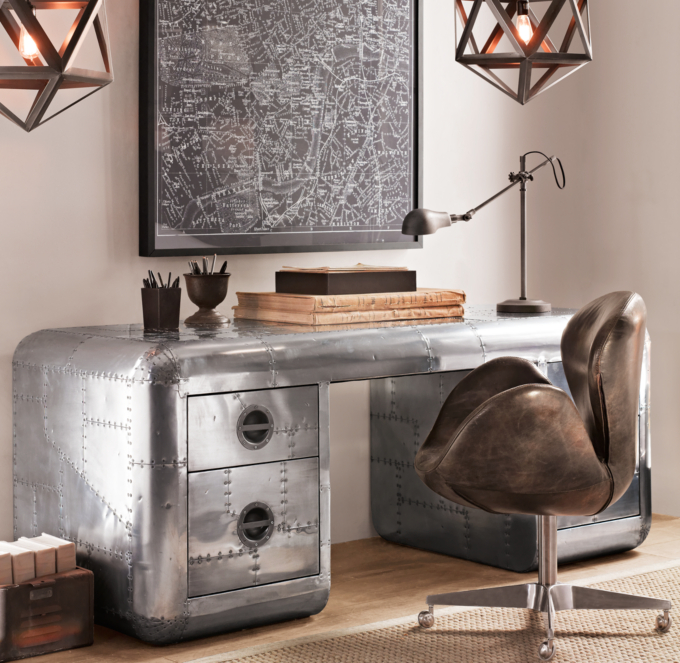 Restoration Hardware
I am going to let him get creative with one of the walls.
Something like this.
Both found on Pinterest.
My sister's boyfriend agreed to help with the creative painting.
I think we will try to incorporate his name and some of his drawings.
A large world map.
Great Big Canvas
On another wall we will have a white board for him to draw on and erase if he wants.

I have a simple chair to reupholster in black leather.
He expressed a want for a medium sized couch to lounge on and read.
I like a challenge, so I am on the look out for a simple couch I can slipcover.

Extra fabrics I will bring into the room include;
Tweed
Leather
Wool
Cotton

I am on the search for interesting sweaters and shirts that I can turn into pillows.

I am hoping these projects can get me through until Spring actually decides to show up.